Critiquing Jim Tanaka
********
Dear Marshall,
While I had not been at that exhibit. Jim had a show here at the Turning Point in Piermont,NY.Jim was excited to be able to show his Jazz series in a music setting so we had a show here with the series. I have one or two originals and several Posters that were issued later. Just recently I have put them back up on the walls of the Turning Point upstairs restaurant to a lot of great positive comments. I still get people asking how they can get them and I have to tell them I don't know. I had a customer from California tell me that he had seen the series before, on wine bottles! So Jim must have licensed a winery to use the series as labels. Anyway if you have an email or address contact for Jim I would love to say hello to him.
Thanks and good luck with the essay.

John

********

From: "David W. Stowe" <stowed@msu.edu>
Date: Wed, 6 Mar 2002 14:57:23 -0500
To: mkatzman@Princeton.EDU
Subject: "Stompin' At The Savoy"
The paintings are kind of small on the website, but from what I could see I liked them. Because they focus on the artists rather than dancers they don't give a sense of the size and energy of the Savoy Ballroom, the premier jazz dance laboratory of the 20th century.
David Stowe
********
"Landscape" is one of his very special paintings,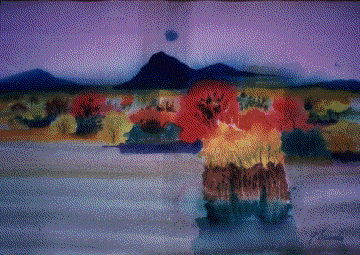 to me it reminds me of a Gauguin.
Paul Gauguin's "There is the Marae",1892.
Oil on canvas 26 3/4 x 35 3/4 in. (68 x 91 cm).Philadelphia Museum of Art.
Tanaka's "Landscape"
and "Seascape"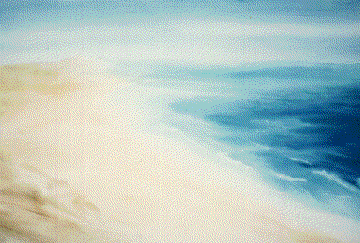 illustrate how he was influenced by Milton Avery."
Suzanne,curator of the Alpine Community House Show. Suzanne titled many of the paintings in the exhibit including "Chimere".
Milton Avery, The Seamstress 1944
Oil on canvas 48 x 32in/121.9 x 81.3cm Signed and dated centre left
Provance Estate of the Artist
"Our charming friend Suzanne . She had come to sew a dress for me while I worked at my drawing table. Her sharp features and striking headdress set the tone for this symphony of high-keyed contrasting colours and angular rhythms." Milton Avery. Figures From The Forties.
********

Marshall,
Let's see, what can I remember about Jim Tanaka's paintings. Going back to 1962, through the friendship and courtesy of his wife, Fran, I was privileged to become familiar with his many works of art and I was able to acquire some directly from him and others from your dear mother who had a great collection of Tanaka's. I am a great admirer of the Tanaka paintings and enjoy having them in my home as well as my children's homes. We consider ourselves fortunate to own such beautiful and valuable paintings, the works of art of a good old friend.
During Jim's travels throughout the world over many years, he was able to capture the beauty of the different cultures. His paintings are colorful and interesting depicting the peoples or sceneries of various countries. His horses and musicians are among his better known, of course!
Your mother was such an avid and enthusiastic admirer of Jim Tanaka's art that for years she took pleasure in showing them and selling them. It was her favorite pastime! As you well remember, Suzanne worked so hard to prepare for the exhibit in Alpine. In the grand style that she was accustomed to, she made arrangements to have each painting displayed just so for maximum appreciation. Suzanne invited a select group of art lovers from her large circle of friends and treated them not only to a great show, but a banquet catered by the well known French "la Promenade" formerly of Closter and now in Tenafly. It was a well attended and most enjoyable affair to remember!
Keep up your exciting project for Princeton University and don't forget to keep the Rebosio family up to date.
Warm regards,
Mary

********
Hi!!
James Yutaka Tanaka attended Chouinard in 1941 for a single semester and took a few drawing classes. That's really about all there is to tell!
Thanks!
Wendy
,¸¸,ø€†°`°†€ø,¸¸ ,¸¸,ø€†°`°†€ø,¸
Wendy Reinke Mortimer
Alumni Coordinator
California Institute of the Arts
24700 McBean Pkwy, Valencia, CA 91355
Ph: 661-253-7875
Fx: 661-291-3013
E-mail: wreinke@calarts.edu
https://www.calarts.edu/~alumni
********
... it's great. I love the slide show of Tanaka's work and the Real Player interview.

that's all, folks.
s t e v e

********

From: "Ken Bonnaffons" <kbonnaffons@bergen.edu>
Date: Wed, 13 Mar 2002 15:18:44 -0500
To: mkatzman@Princeton.EDU
Subject: "Stompin' At The Savoy"

"Thanks for exciting the eyes and ears ... and the soul. Love your work!"

********

From: JOELSHUMER@aol.com
Date: Fri, 22 Mar 2002 06:45:46 EST
To: mkatzman@Princeton.EDU
Subject: "Stompin' At The Savoy"
Interview was interesting....I remember the Donald Duck can ... very much liked his calligraphic horses. I'm surprised I haven't seen some of his jazz paintings on album covers.

********

From: GeneC411@aol.com
Date: Thu, 21 Mar 2002 07:18:07 EST
To: mkatzman@Princeton.EDU
Subject: "Stompin' At The Savoy"

Wonderful!

********

To: mkatzman@Princeton.EDU
Subject: "Stompin' At The Savoy"
In a message dated 3/20/02 4:47:21 PM, aadams@bergen.edu writes:

Marshall. I love the site! ...The art would be nice as a screen saver for a jazz afficionardo.
Love the music.
April

********

From: "Robert Zeller" <RZeller@remzeller.com>
Date: Mon, 11 Mar 2002 09:06:32 -0500
To: mkatzman@Princeton.EDU
Subject: "Stompin' At The Savoy"

Music and pictures are very enjoyable and soothing... Notice the "sugar added" on the orange juice.
Robert Zeller, Esq.
REM Law Group

********
"Lustic und Freulich!" the late Karl Steiger.
.
Sally Lewis, Karl Steiger and Marlise Steiger, Zurich, 1975
********

From: Dmitri1451@aol.com
Date: Sat, 2 Mar 2002 16:27:42 EST
To: mkatzman@Princeton.EDU
Subject: "Stompin' At The Savoy"

I recently bought a signed copy of Jim Tanaka's print "Black, Brown, Beige" would like some info on it's true value.
Dave Porter
Dmitri1451@aol.com

********

From: postmaster@poster.de
Organization: poster.de
Date: Wed, 13 Feb 2002 15:44:06 +0100
To: mkatzman@Princeton.EDU
Subject: "Stompin' At The Savoy"

Hi and thank you for your query!
I myself haven´t found too much information on Tanaka, unfortunately - I found a web site without much info really, but have a look anyway:
https://members.bellatlantic.net/~mkatzman/tanaka.html
Sorry for this not really helpful answer - but this is all I have!
Greetings from Munich, Germany,
klaus Leuchtweis

********

From: "Barry Freeman" <bfreeman@bergen.edu>
Date: Tue, 19 Mar 2002 12:07:47 -0500
To: mkatzman@Princeton.EDU
Subject: "Stompin' At The Savoy"

...thanks for sending me this music and art, and here are some of my thoughts about them. The music & art are both great.I'm almost ready to dash off to the show. However, time requirements prevent me from doing this. Also, it was nice that I could listen to the music, view the art, and still check stock
quotes at the same time (with a small pop-up screen that does NOT block the art).
Wow.

********


I read and looked at both Stompin at the Savoy, and More about Jim Tanaka. Enjoyed them both. Particularly enjoyed the series of paintings shown in Stompin. I like the Jazz Musicians shows in "More about Jim Tanaka", but that series in "Stompin" shows a lot of variety, as well as the Calligraphic Horse at UofM.

Do you own any of these? Are these all watercolors? Did he utilize woodblock techniques after studying with Fumio Kitaoka?

How did you get turned on to this?

********
AL wrote:
Moody and easy................
This is goooooooood
My respects for the.............jazz
I like it
Have a slow evening
AL

********

IROSS@adp.state.ca.us wrote:
Thank you for publishing the information on Jim Tanaka. I brought about 7 months ago two of his lithographs. I feel in love with them, the moment I saw them. I have for 2 years been studying watercolor at a community college. I haven't been into the art field for a long time, just about 4 years. I have taken several art classes and have found watercolor to be my favorite because it ties into my field of study "Fashion Design"/Sewing. I didn't know anything about Jim, until I discovered your site and I wanted to say "Thank You." Also, do you have an address of where I could get in touch via email with Jim. I wanted to write him a note of thanks and also find out if he teaches classes. I am in Sacramento.
Thanks again.


********

Marshall- thanks for sharing your research with us. Received the painting images, but not the essay-so don't know much -actually nothing-about this painter. Just that his work reminds me of Jacob Lawrence. Were the images you sent watercolors or oils. Was /is the artist black? How did you connect with the work? Know that my mother-in-law had a Tanaka drawing of aged hands, which she purchased in Haiti. It was pretty wretched-actually kitch. Wonder if this is the same artist, or just a coincidence of names. But I had a more favorable impression of the work you e-mailed to us.
Artfully yours,
Linda Nesvisky
lnesvisky@hotmail.com

********

Hi,
you did a great job, I like the music with the art work slide show. Where will you index it and will this be linked at other art sites. (how will people find it?)
al
********
Thanks for the beautiful artwork, your arrangement of it, and the wonderful interview which provides a great glimpse of the artist at age 85.

Cindy
********
The Alpine Community House Show
An Interview With Jim Tanaka (Complete Unedited Text) (Edited QuickTime Audio File)
Critics Corner
Flash Version Requires Shockwave
Email your comments: mkatzhope@aol.com
Jim Tanaka's Jazz "Mini Posters"
'Stompin' at the Savoy' : the Art of Jim Tanaka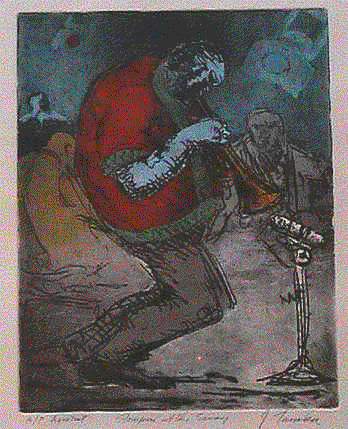 Webpage Designed By
Marshall D. Katzman
Ridgewood, NJ 07450
201-621-1146
Updated On
September 1, 2019
© 2019 • fantasypuppettheater.com