Jim Tanaka Suggested Readings
Some of these readings are only available on line via a proxy service.
Suggested Readings
Adorno Theodor W. Translated by Rodney Livingstone. Sound Figures. (Meridian.) Stanford, Calif.: Stanford University Press, 1999. [ix, 229 p. ISBN 0-8047-3557-3 (cloth); 0-8047-3558-1 (pbk.).
Archer-Straw,-Petrine. Black intentions. Art Review (London, England) v 52 Nov 2000. p. 46-7. 2000 ISSN: 0004-4091 Abstract: The writer compares the negrophilia of the avant-garde in 1920s Paris with the work of contemporary artist Chris Ofili. Negrophilia in 1920s Paris was expressed through a craze for collecting African art, listening to jazz, and dancing with black people. The writer reflects on how Ofili's paintings exploit the more sensationalized aspects of black culture while arousing deep feelings about the nature of blackness. She argues that debates on racial identity still refer to the tradition of minstrelsy and ideas of the primitive.
Berrigan,Ted. A Certain Slant of Sunlight.ISBN: 0929022009
Foster, Hal.The Return of the Real (October Books) MIT Press. September 1996. ISBN: 0262561077
Goodman , J. Thundering Heard. 1999.
Jameson, Fredric. The Constraints of the Postmodern. Wellek Library Lectures for 1991. The Critical Theory Institute University of California, Irvine.
Kwon, Miwon. One place after another: Notes on site specificity. October, Spring97 Issue 80, p85, 26p, 11bw. ISSN: 0162-2870 Abstract: Focuses on site specificity in art. Emergence of site specific works in the 1960s in reversal of the modernist paradigm of autonomous and placeless art; Perception of the space of art as a real place; Creation of Robert Barry's wire installations to suit the places in which they were installed; Shift of the site from the physical condition to the system of socioeconomic relations within which the artwork was created.
Newman, Amy. Challenging Art : Artforum 1962-1974. Soho Press, Inc. ISBN: 1569472076
Plagens, Peter.(book reviews). The Invisible Dragon: Four Essays on Beauty. Art in America, Nov 1994 v82 n11 p35(2)
Riben, Hans. Symposium on musical iconography: music in art. Sounds of the seventeenth century. Art-Bulletin-of-Nationalmuseum-Stockholm v 7 2000. p. 92 PUBLICATION YEAR: 2000 ISSN: 1401-2987 Abstract: A report on "Music in Art. Sounds of the Seventeenth Century," a symposium on musical iconography held at the Nationalmuseum, Stockholm, on October 27, 2000. Taking as a starting point works in the collections of the museum, this well-organized symposium featured seven papers that illustrated how this boundary-crossing discipline can cover both broad panoramic surveys and detailed, in-depth analyses of specific issues. The symposium was accompanied by the exhibition "Music in Art," which examined how music, music making, and musical instruments were represented in pictorial art from the 16th to the 19th century.
Rich,-Tim. Jazz compositions. Print (New York, NY) v 54 no2 Mar/Apr 2000. p. 150-7. 2000 ISSN: 0032-8510 Abstract: The work of Swiss poster designer Niklaus Troxler is discussed. Troxler has organized jazz concerts in Willisau, Switzerland, since 1966, and the event was a major festival by 1975. Each year since then, he has designed posters for the festival and for the individual performances, resulting in a remarkable body of work that is varied in concept and style. A recent book on his work, Jazz Blvd, shows the evolution of an extraordinary graphic language. At its best, Troxler's work performs in the present and delights the viewer, achieving something close to the condition of music.
Rupert, Mark forthcoming in Stephen Burwood, ed. Fordism. The Cold War: An Encyclopedia. (New York: Garland Publishers)
Silberman,-Vanessa. Jazz art: still swingin' the market. Art Business News v 27 no8 Aug. 2000. p. 60-2. 2000 ISSN: 0273-5652 Abstract: Jazz-themed art is selling better than ever. Galleries across America are taking notice of artists specializing in this type of art, which is now making it big. Apart from the strong economy and the growth of the art market in general, there are a number of specific reasons why buyers are attracted to jazz art: It can be a souvenir of a city, for example, and many buyers are drawn to the bright colors and expressive brushstrokes typically found in the work. Given the success of today's jazz artists, moreover, jazz art's potential to grow remains unquestioned.
Stowe, David W. Swing Changes: Big-Band Jazz in New Deal America. Harvard University Press, 1994.
Tarabukin, Nikolai; Bartlett, Rosamund; Gough, Maria. ART of the Day, The (Book); October, Summer2000 Issue 93, p57, 21p. ISSN: 0162-2870 Abstract: Presents an excerpt from the book `The Art of the Day.' What one needs to know in order to make posters, woodcuts, advertisements, Produce books, newspapers, and placards, And what possibilities are opened up by photo-mechanics.
The Alpine Community House Show
An Interview With Jim Tanaka (Complete Unedited Text) (Edited QuickTime Audio File)
Suggested Readings
Flash Version Requires Shockwave
Email your comments: mkatzhope@aol.com
Jim Tanaka's Jazz "Mini Posters"
'Stompin' at the Savoy' : the Art of Jim Tanaka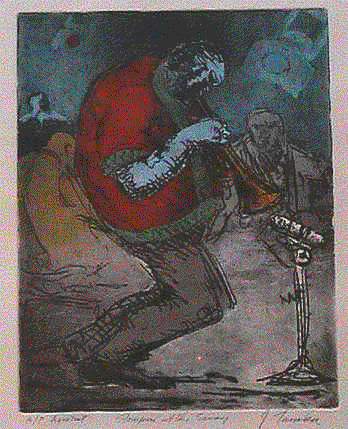 Webpage Designed By
Marshall D. Katzman
Ridgewood, NJ 07450
201-621-1146
Updated On
September 1, 2019
© 2019 • fantasypuppettheater.com