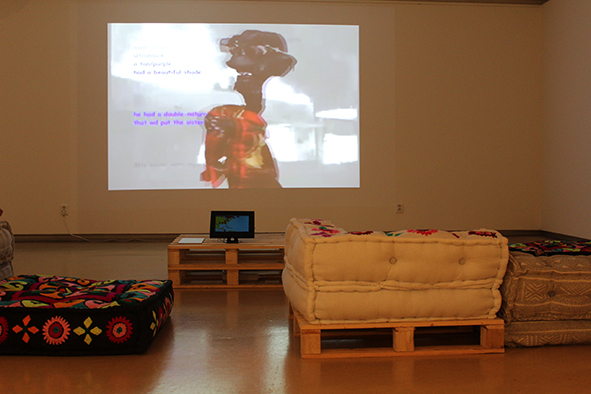 National Museum of Puppetry Arts Břetislavova 74, 537 60 Chrudim
The exhibition UNI…WHAT? UNIMA! 90 Years | 100 Countries | 1 Passion was held from 25th of May to the 26th of June in the Gallery of the Czech Centres in Prague. During that time hundreds of people visited the exhibition – many of them were also visitors or participants at the Prague Quadrennial 2019- and were very excited how varied and beautiful the world puppetry can be. We managed to gather more than fifty videos from countries from all over the world where UNIMA has its centers. Thanks to your cooperation and effort we had the great pleasure to introduce the puppetry from your country to the wide public. The visitor could sit comfortably, chose a certain country on the tablet and project the videos on a big screen. We also displayed with the videos some items from our collection. Among them was exhibited a scenography from the famous production Eulenspiegel from the Czech theatre DRAK by the artist Frantisek Vitek, some art designs of UNIMA logo and puppets made by puppetry personalities who were active members of UNIMA or made significant contributions to its history, like Jacques Félix, Jan Wilkowski, Harro Siegel, Paul McPharlin, Jim Henson etc. We also published an accompanying book about UNIMA with the same name as the exposition. There were also some TV reports filmed at the exhibition place. We enumerate this information because we would like to show you, how important was your contribution and that we feel a big enthusiasm we could make the contact with you. We enclose some photographs and hope you will enjoy them too. The exhibition will be held again from October 2019 in Prachatice and then will be moved to our museum to Chrudim in 2020. It would be great if we could keep in contact with you. We are definitely interested in your new projects and we will be glad if you share them with us.
Best wishes from the Czech Republic
Eva Brabencova Curator
National Museum of Puppetry Arts Břetislavova 74, 537 60 Chrudim
www.puppets.cz
***
LA Guild of Puppetry 48 Hour Puppet Film Project
"Makin' Dirt with Eddy and Freddy"
"I enjoyed the effects and thought the timing was really funny..." Heather Henson serves on The Jim Henson Company, The Jim Henson Legacy, and the Jim Henson Foundation Boards of Directors. She is also a Trustee of the Eugene O'Neill Theater Center in Connecticut.
"Charming, fun voiceover, good message..." Christine Papalexis, puppeteer, puppet designer, puppet and costume maker, artist, director.
"This is completely bonkers!! So cool and original and bizarre. I love the sonic choices, they really elevated the atmosphere...the production design is great...It's such an awesome world..." Bill Watterson
***
"Marshall and some of his star puppets (who stole the show) gave a presentation at Ridgewood AM Rotary, giving us a glimpse of his performance range, wit, and fun. Our club -- all adults -- thoroughly enjoyed his talk and the show."
Ridgewood AM Rotary
***
"Thank you for a wonderful, thoughtful, entertaining show. We had great feedback from our patrons."
Robin Ritter, Youth Services, Dept. Manager; Outreach Team, Ridgewood Public Library
***
"Both kids and adults enjoyed the puppet show a lot. It's very interactive and kids loved participating in the show. Lots of laughter throughout the show. This is our second time hiring Fantasy Puppet Theater for our children's birthday parties and we couldn't be happier with the experience."
M.W., Ridgewood, New Jersey
***
"We love the interaction with the audience.
This is one of our most popular summer reading programs for that reason. The children also loved shaking hands with the puppet after it was over.
Mr. Katzman has a variety of voices and personalities to perform with multiple characters. He is always prompt and professional.
We recommend him for any event!"
Stephanie Smith, Youth Services Librarian Gloucester County Library System Mullica Hill Branch
***
"It was wonderful to have you perform at our Library. The kids seemed thoroughly engaged in your performance. Thank you"
Ashley Loria, Youth Services, Children's Dept. Supervisor Gloucester County Library System Mullica Hill Branch
***
"Outstanding! Wonderful interaction with the children. High quality puppets, theater, lighting and performance!"
Robin Ritter, Ridgewood Library Children's Department Dept. Manager
***
"I have to recommend Fantasy Puppet Theater. In May, I won a puppetry party while at a Ridgewood school tricky tray. My son's birthday is in December and we are always afraid the threat of snow will keep many people away, so I decided to have a non-birthday party for all of my son's friends and my friend's with kids. We had 70 people attend a party today with several great puppet shows, all performed by Marshall Katzman and "Fantasy Puppet Theater." My phone has not stop ringing, everyone is calling to tell me how much they and their children enjoyed today's event. I highly recommend both the recycling themed show and the Frog Prince. The kids loved them. He made it extra special for my son by getting all the kids to sing, "Happy Unbirthday to you!" If you are trying to think of something different for a party, try them. "Fantasy Puppet Theater"
Melissa Teger, River Edge, NJ
"The Aladdin's Lamp show was awesome! The children residing at the shelter with their mothers were thrilled by your puppets and it certainly brightened up everyone's day!The music, humor and set all came together to create a magical performance! I was definitely impressed by your incredible one-man show and the level of professionalism and promptness when booking. Thank you so much Mr.Katzman! We loved your Fantasy Puppet Theater!"
Clarisa Mercado
Childcare & Education Dept. Shift Leader
Eva's Village Hope Residence Shelter for Women & Children
"We all enjoyed the performance, adults included!"
The New Canaan Historical Society
"I thought it went quite well...the kids seemed to have a great time, I know my kids did."
Rachele Harmuth
Wallenpaupack Lake Estates
Lake Ariel, PA
***

"I loved the puppets, especially the large eyes and heads of the main characters. The script is clever and uses repetition in a timely manner to build the suspense in the chase scenes."
Betty Sommerville
Somerset County 4-H Fair
***

"I liked the fact that it kept to the traditional story. I felt like it was the same type of show that was probably being done many many years ago, which is a cool thing to expose my community to."
Josh Humphrey, Director
Kearny Public Library
***
"Thank you for partaking in our Secaucus Street Fair, I thought your show was very good and kept the interest of our children. You also interact with our children which always brings them back. I look forward to seeing you next year at our Street Fair Event. Thank you and have a wonderful Summer"
Donna Przychodzki
Secaucus Events Committee Member
2013 Secaucus Street Fair
***
"...I heard great things about the show from the parents and even our Mayor! It must have been very entertaining and the fact that you were so flexible
and came last minute when asked was really a big help!"
Amanda Nesheiwat
Town Of Secaucus
3rd Annual Green Summer Festival


"Fantasy Puppet Theater"
Is Listed In The Current
New Jersey Summer Reading Program
"Fantasy Puppet Theater" offers discounts for libraries, charities and non-profit organizations!

***
NYPL Celebrates National Day of Puppetry
by Julia Chang, Public Programs/Lifelong Learning April 26, 2011
Special thanks go to Puppet Master Peter Lewis for organizing the event and to Bruce Cannon, the Artistic Director of the Swedish House Marionette Theater
in Central Park, who acted as MC. Further congratulations go to the performers: Penny Jones & Co. Puppets with "Mother Goose" and Marshall Katzman performing "Mortal Danger",
Spica Wobbe & Margot Fitzsimmons, Double Image Theater Lab, "I Laid an Egg"; Eric Wright, The Puppet
Kitchen, "A Single Lady"; Barry Weil, Tanya Khordoc and Edward Einhorn, Evolve Company, "Becoming"; Donna Cantillo, Little Feet Productions,
"Little Red Riding Hood"; Ronny Wasserstrom, Playdate Puppets, "Humpty and Friends present the Silly SkareKid"; Artie Poore: Stop Motion Animations;
and one of the founding members of the Puppetry Guild, Bernice Silver, Bernice Silver Puppets, "A Puppet Hootenanny."
***
"Oh, boy, oh, boy, oh boy……. This enchanting production of the classic tale "Aladdin's Lamp" held the rapt attention of a group of 15 or so children plus several accompanying adults for close to 45 minutes. Beginning with no introduction except a strain of eerie music coming from an unseen source, the velvet curtain of a small theater opens on a single character, Aladdin's mother looking for her son, and at times as many as three characters are performing as simultaneously as possible given
a two handed puppeteer. The show is interactive, with the characters including the audience in a discussion of the action. And the children respond in sometimes hilarious ways. They buy into the illusion and are literally on the edge of their seats for most of the production, giving advice and direction to the characters. Like most classic children's tales, the story raises moral/ethical questions and resolves them with the elimination of the bad guy and the magical triumph of goodness and true love.
The adults in attendance enjoyed the show as well, and everyone left happy. We would all recommend it."
Grace Mitchell
Assistant Director, Dennis P. McHugh Piermont Public Library
***
The New York Times
Family Fare
A Furry Celebrity Dances With the Stars
By LAUREL GRAEBER
Published: April 21, 2006
***
The 2nd Annual Camping Ceilidh
Was A Rockin' Success!
Here is what some fans had to say:
"Wow! Your own web site! We truly enjoyed your performance at the Camping Ceilidh and hope you return
next year! "

Michael, Amy, Seamus, Claire, Christopher Conley
Milford, NH
***
"It is hard to keep thirty 6 year olds engaged, but they really loved the puppets and being able to call out answers
and tell the puppets what to do."
Jen
Ridgewood, NJ
***
"Rock-A-Day Johnny" was the highlight of the concert. I loved all your stuff, it was not only humorous but gave
the audience another look at what a true multimedia event can be.
I would really appreciate it if you would contribute another of your works to the next concert in March. The theme,
"Rituals"
Dr. Ron Mazurek
Bergen Community College
***

Pady Blackwood
Dreamstuff Puppets
***

Doug Anderson
Actor-Magician-Puppeteer-Ventriloquist-Cartoonist

***

"Marshall- They really, really liked you!"
Patric Epstein, New York City Department of Parks and Recreation. 1998
***
The New York Times
October 04, 1991
For Children
By Dulcie Leimbach
***
The New York Times
December 9, 1988
Holidays for Children: A Multiple-Choice List
By Phyllis A. Ehrlich
The New York Times
December 11, 1987
Paper-Bag Heroes And Other Treats For Young Audiences
By Phyllis A. Ehrlich
***

The New York Public Library
December 2nd, 1986
***
The New York Times
December 5, 1986
Holiday Spectacles For The Young And Young At Heart
By Phyllis A. Ehrlich
***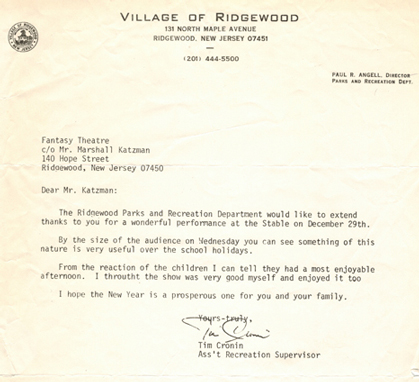 Tim Cronin
Ridgewood Recreation
***

John G. Hutchinson, Mayor
Charleston, W.VA.
***

The Puppets of Katzman
The Daily News, Sunday 5/13/73
***
Read Or Write A Review